Behind every great tour is a great Tour Manager: the unsung hero who orchestrates everything, helps connect artists with fans and keeps things running smoothly even in the worst of circumstances. Derek Shampine, a Nashville-based Tour Manager to the stars, began his music career after leaving Berklee in 2005.
"I did an internship at Warner Chappell publishing, then got some temp work at Capitol Records working in the mailroom, then over at Warner Bros Records doing the same thing, then that turned into being the assistant to the Senior Vice-President of Marketing. Those jobs helped me learn to be organized, keeping track of my boss' schedules, travel, expenses etc. which is all stuff you need to know and do as a tour manager. One day I got a call from my old internship boss that they had a newer artist that needed someone to go on the road. So I went and interviewed and got the job during the interview, and I have been on the road tour managing ever since," Derek recounts.
In less than a decade, Derek has hit the road with major artists like Joe Nichols, Clay Walker, David Nail, Sean McConnell, Canaan Smith, JT Hodges, Casey James, Parmalee, Ashley Monroe, Jessie James Decker, and Will Hoge.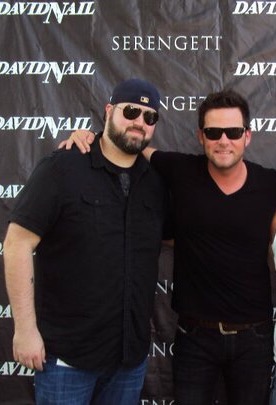 "With that extensive list, we've been able to tour with or work with most all of the other artists in the country genre as well in some capacity," Derek says.
There are some common misconceptions about tour life, typically drawn from Hollywood depictions of what nightly activities on a tour bus look like or the rabid groupies portrayed on screen. Derek paints a much different picture.
"Life on tour isn't nearly as fascinating or wild as people may think it is. It's just a group of friends doing road trips together basically. You look forward to seeing new places you've never been before, trying cool restaurants, etc. Most of the time on the bus we'd be listening to music, watching TV or movies, or playing around on our smart phones. For the most part, it's pretty low key. We usually look forward to the off-days where we actually have time to go soak in these new places and experience them other than just seeing a venue all day, going to bed, and waking up somewhere different. Sometimes a historic venue is cool too, getting to do a show somewhere these past famous musicians played years before. It's pretty awesome."
Derek's job is vital to the success of the tour, as he arranges most of the behind-the-scenes and maintains organization from the smallest detail to the most important.
"I always laugh and say that it's 'adult babysitting.' But truly, it's keeping a schedule for everyone in the band/crew, the artist, bus drivers, lining up hotels, travel plans, catering, dealing with venue staff, payroll, accounting, radio station visits, and pretty much anything else that comes throughout each day to make sure everything runs as smooth as possible. There's a lot that goes into a show that's prepared way ahead to make sure when you arrive at a venue everything is in place and ready to roll. Long hours for sure," Derek explains.
And Derek's job doesn't just begin on day one of the tour: he is also heavily involved in the pre-planning.
Derek says, "Similar to just the daily duties, it's a lot of prep work. Typically I would coordinate with artist managers, venue management, radio team, label reps, etc. to make sure a schedule is in place for anything we may have to do that day. There's a lot that goes on behind the scenes just to prepare for an artist to be on stage for 60-90 mins."
How important is touring for a musician? Particularly for younger artists, Derek stresses that touring is "crucial for growing a fan base."
"Established artists pretty much have everything rolling, so at that point it's maintaining the career, or building it up a little from where it is currently. Whereas a new artist, you have to do more radio events, interviews, etc., to be able to get in front of the most people you can. It's important for new artists to lay the groundwork and work their butts off for the first couple years so that hopefully you'll get to the point where it doesn't take as much to get people to come watch/listen to a show."
For anyone daydreaming about becoming a Tour Manager, Derek recommends starting with a newer artist and building up your basic knowledge skills. "Maybe start by being a merch seller and just getting familiar with the touring aspect. Also- watch, listen, and learn from other Tour Managers, that's a huge part. Do a van/trailer tour maybe to start off, and move up into bigger stuff once you get that knowledge and experience. You'll be better and not as overwhelmed going into adding the responsibility of buses, and drivers, and doing things on a larger scale at that point. Basically learning to walk before you run. And mostly, try and enjoy it. It can be stressful at times, so you gotta make the best of it all."